Working with Purrly Digital
Purrly Digital (est. 2009) is a small business that grew out of Rebecca's passion for digging into technology and discovering how it works. It's rooted in her identity as a self-taught professional who's worked as a tester, developer, systems administrator, DevOps engineer, and project manager. And it's fueled by her love of working with clients to dream up the right solution for their needs.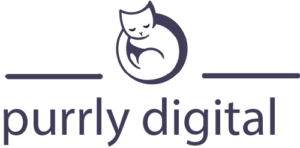 It's your site—you should own it. Let us manage it for you.
When Purrly Digital was founded calls and emails started flowing in from businesses and nonprofits who needed more from their website, but didn't know how to get there.
A common theme?
"Our website just doesn't work."
The businesses and organizations contacting us felt trapped by their site's ineffectiveness, current developer, or hosting provider. It was just too hard for them to make edits on their current sites, and they didn't understand how to make it all work better. In some cases, they had lost access to their site all together.
Purrly Digital is different.
Your website should be easy for everyone to use. We build accessible, responsive WordPress websites so your users can find what they need, and we make them easy for you to keep up-to-date too.
You should own what's yours and control the direct relationship between hosts, license providers, and other services your site—and business—depend on.
Work with Purrly Digital and experience responsive service and practical solutions that work for you and help support your business or organization's goals.
What does your website need to accomplish? We can put our hearts and heads together to make your ideas real.
Here's what you can expect when we work together
You'll always understand what you're agreeing to.
You won't feel underinformed about the decision you're making.
You won't be tied to our platforms or our solutions.
Our goal is to set you up for success—with or without us.