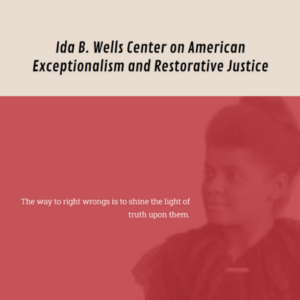 The Ida B. Wells Center on American Exceptionalism and Restorative Justice (The Wells Center) is a not-for-profit public benefit organization, founded to serve as a catalyst for ideas, strategies, and intellectual stimulation through Scholarship, Engagement, and Action (SEA) in the creation of thought-provoking social, economic, and academic change in global arenas.
Background
Larry Kenneth Alexander, Author and Cultural theorist, scheduled a free consutlation call with Purrly Digital to find out more about Purrly Digital's hosting management services and why the websites he'd put together to support his work weren't showing up at all in web searches. During the call, we uncovered issues with their hosting platform, and since the sites were all built on that platform, in order to move to another, they were going to need to rebuild their sites. Purrly Digital's team saw an opportunity for the sites to work effectively together, and proposed combining the three sites into one, giving greater visibility and connection to Mr. Alexander's work as an author and academic.
Solution
The new site was designed to support the organization's mission and Mr. Alexander's passion for facilitating conversations around historical enslavement and creating a community for the sons and daughters of the enslaved. Purrly Digital brought in the content from the three different domains and organized the information into a singular overarching theme with divergent, but relevant, focuses.
Purrly Digital's team outlined some easy-to-follow SEO best practices Mr. Alexander could follow as he continued to update and add to the new site. As a maintenance client, the Wells Center can now count on Purrly Digital to keep their new WordPress site secure, and to let them know how to continue to optimize content for better search performance.
Rebecca and Shannalee were knowledgeable and professional. They made the entire process of simplifying our website and transferring to a more suitable environment easy. We look forward to a long term collaboration as our not-for-profit organization grows.
— Gina Alexander, Ida B. Wells Center on American Exceptionalism and Restorative Justice